Until the late 1950's, there was only one narrow paved road on the Island. However, there were many winding dirt roads canopied by moss draped live oak trees or bordered by fields of grass or crops. These dirt roads connected more than a dozen neighborhoods: Chaplin, Marshland, Gardner Grassland, Cherry Hill, Mitchellville, Bay Gall, Squire Pope, Stoney, Jonesville, Spanish Wells, and Broad Creek. Each neighborhood contained 20–30 neatly kept little lamp lit frame houses. Christmas truly came only once a year, and it was a special time indeed. Only at Christmas could we get or see toys, eat abundantly fresh exotic fruits that were not grown on the island (such as apples, grapes, bananas and oranges), and taste special sweets. We also got to see certain people we didn't see often, like relatives from up North. They would bring special gifts for family members.
I remember my sister's first return trip from New York for Christmas after being there for two years; she brought us all a little gift. But our greatest gift was her being home with us. The Islands' separation from the mainland made it extremely difficult for Santa to reach us. But Christmas was not heavily weighted on gifts from Santa Claus. It was weighted on the belief that Christ was born on the 25th Day of December. "When was Jesus Born" was a very popular folk song during Christmas time. It seemed people sang that rather amusing tune wherever more than two gathered:
When was Jesus born?
Chorus
The last month of the year (Repeat trice)
Was it January?
Chorus: No! No!
February? No! No!!
March, April, May? No! No! No!
June, July, August
September, October, No-vember,
The twenty- fifth day of De-cem-ber
The last month of the year!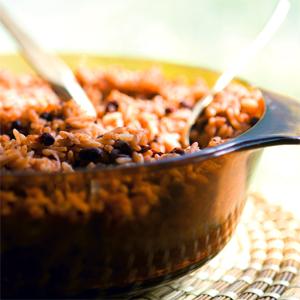 We decorated our Christmas trees with natural ornaments as Spanish Moss, holly bushes, and pine cones. Families cooked all night as children went to bed early. Parents and children, who were too old for Santa's gifts, prepared Christmas meats such as fresh pork, raccoon, rabbit and turkey. On Christmas Day, everyone woke up very merry! Red wagons, dolls, key-wound toys, battery run trains and clothing would clutter the tree. At our house, my mother usually prepared early morning breakfast: grits and Seafood — fish, shrimp or oysters — with browned onion gravy served and her deliciously baked biscuits and hot cocoa. Soon after breakfast, men and children separately visited every house in the neighborhood. The children would be served fresh nuts, candy, and fruits and a glass of soft drink. The men would be served portions of meat, veggies, starches, and desserts; or a full meal of rice dishes, baked raccoon, potato salad, turkey, roast pork, potato pie, turnip greens, pumpkin pie, etc. Fine wines were made from the berries of the Spring.
During their visit, the men would gather around the table and sing old spirituals and swap folk tales. In the Marshland neighborhood, the men from that end of the Island held an annual Christmas Day horse race. A portion of Marshland road from "Big Gate", now Mathews
Drive, and one mile southwestward was the designated track. Legend has it that a horse named "Nail Urn" was usually one of the most favored to win. On the day after Christmas, women would make house to house visits for delicious foods and homemade spirits, following the same routine the men did the previous day, and they also sang old spirituals as they walked. Their harmonious voices could be heard from a considerable distance in the still winter ambience of the Island.
Eventually Christmas would come to a regretful end just before the New Year arrived, and everyone would soon begin preparing the upcoming year. Below is an excerpt about the Gullah New Year from the book Gullah Cultural Legacies by Emory S. Campbell.
There are many traditions practiced by the Gullah-Geechee to prepare for the New Year that have been in place since 1862.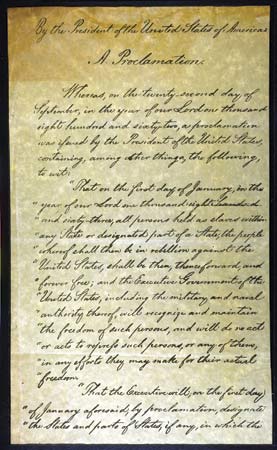 The Emancipation Proclamation
Signed by President Abraham Lincoln on Jan. 1, 1863, the Emancipation Proclamation freed slaves in rebel states. The first "Watch Night" began on New Year's Eve in 1862 as abolitionists and others waited to hear the news.
Watch Night
The gathering of community members at the praise house or church or at someone's house happens from about 9 PM until midnight on New Year's Eve. During the gathering, members sing traditional spirituals, give testimonies of the past year and express wishes for the coming year, until it's time to watch for the New Year's arrival. A person (watchman) is sent outside about 15 minutes before midnight to watch for the New Year. Before watches were available, the "Watchman" watched the moon to determine when midnight arrived. Everyone kneeled at their seat while the leader called out to the watchman for the minutes left in the old year as he leads the gathering in prayer. The sequence continues until the watchman announces arrival of the New Year, which evokes shouting and jubilance. You can join in on this tradition at any of the local Gullah Churches on Hilton Head (i.e. First African Baptist Church, Central Oak Grove Baptist Church, Mt. Calvary Baptist Church, St. James Baptist Church, and Queen Chapel) on New Year's Eve.