If one took a Gullah Heritage Trail Tour on Hilton Head Island between 1868 and the 1950's, one would have experienced an entirely different 4th of July celebration from this one in 2014.
Gullah families were virtually the only occupants on the Island and they anxiously awaited and prepared for the first holiday of the summer. Few Gullahs, identified with Fredrick Douglas' famous 1852 speech "The meaning of July 4th for the Negro" because they lived freely on ancestral, family land.
Since settling in Mitchellville, a Freemen village, in 1862, Gullah families spread out to 10 different neighborhoods connected by sandy roads through thick forests and a common African ancestry. These families held a sense of self and place that inspired them to celebrate independence!
So on the 4th of July, Gullah families celebrated their freedom the Gullah way: harvesting crops that had been planted in early spring – corn, Crowder peas, butter beans, peanuts, watermelon, and okra – and preparing them for a community-wide picnic.  Early on the hot and humid morning of the 4th, the men of the Farmers Club mounted their spirited Marsh Tackies and steered them through the fields to competitively evaluate the progress of each other's crops. The winning prize was bragging rights.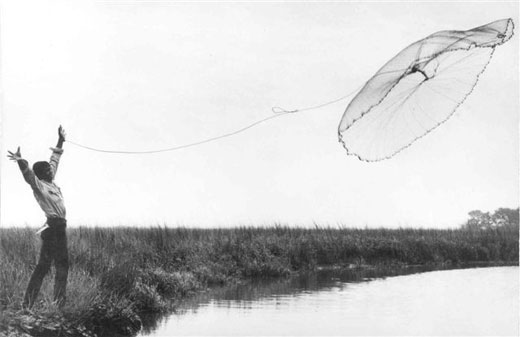 After Gullah families had traded their farm goods at the Savannah City market days earlier, other picnic staples like rice, hot dog buns, franks,  blocks of ice, and powdered ice cream mix were purchased and brought to the Island via boats made by Gullah craftsmen. Before the summer sun began to sizzle on the morning of the 4th, women of the Family Aid Clubs gathered to organize picnics in neatly arranged neighborhood backyards.
American flags were displayed in veterans' homes, children and adults began dressing in their new clothes that were bought specially for 4th of July, and by early afternoon, back yard picnics under moss-draped oaks and pecan trees were in full effect!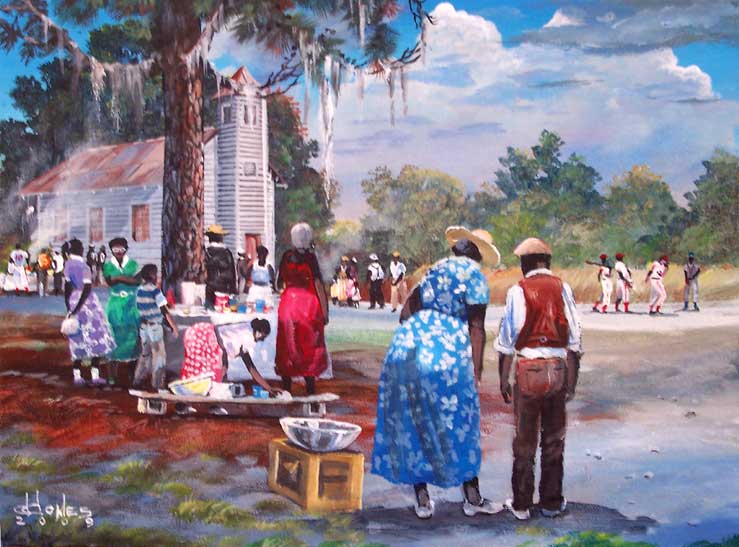 On some 4th of July celebrations, special arrangements were made for transporting families to the beach for an Island wide picnic. Children and adults piled in the canopied back of the few privately-owned pickup trucks on the island. After a safari-like trip on bumpy roads, they would arrive at deserted sugar-white dunes fronting the shores of the expansive dark blue Atlantic Ocean. There, everybody would watch the enchanting sea and the few who dared to ride the waves, scantily clad, on their makeshift rafts gorge and their bellies on picnic food:
Red rice, potato salad, baked macaroni and cheese, seafood gumbo, yard-raised fried chicken, steamed green corn, hot dogs soaked in mustard, fried fish sandwiches, delicious churned ice cream, parched and boiled peanuts, and Nehi soft drinks and iced cold lemonade floating in number three wash full of chipped ice. And for the children, 4th of July was not complete without a 1/4 of watermelon.  For adults, some drinks were more discretely served. We need not go there.
By sundown the children were brought back home with their clothing now slightly soiled from slurping watermelon and playing in the sand . But who cared? Some adults would spend the evening hours dancing to music by picnic bands that in later years were replaced by juke boxes at juke joints.
Everybody had celebrated the 4th of July on "We Island"  in true Gullah tradition, Independently!
Emory S. Campbell, Manager
Gullah Heritage Trail Tours

(The author grew up on Hilton Head Island during the later part of the described period)